TRADE DIRECTION
Our trade partners are all over European Union, in East European and Baltic countries, in the Balkans as well as in more distant markets such as Asia and West Africa, where we export Polish pork and poultry mostly.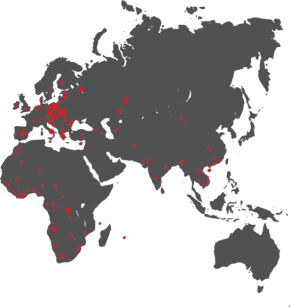 CAPITAL GROUP
Pamapol Capital Group operates in food processing industry. Pamapol S.A., one of leading manufacturers of meat and vegetable meals in Polish market, is the Capital Group's parent company.
The Warmińskie Zakłady Przetwórstwa Owocowo-Warzywnego Sp. z o.o. based in Kwidzyn (WZPOW), a manufacturer of canned and frozen vegetables, is in the Group structure as well.
Another entity in the Group is MITMAR Sp. z o.o. based in Głowno. The company focuses on a sale of meat and meat products in domestic market and foreign markets. In addition, the company renders storage and logistic services; it also develops its manufacturing activities in poultry and pork raw material acquisition.

QUALITY AND SAFETY
Focusing on our customers' needs we lead up to the development of their continuous trust in us offering them high quality goods and services so that we become reliable partners for present as well as future customers. Our operative and efficient Quality Management System, which complies with HACCP, IFS and BRC standards, serves this purpose.
In our attempt to ensure the highest possible quality of products offered we maintain long-lasting relationships with those suppliers who satisfy our requirements specified in bilaterally accepted specifications.
We take great care to ensure that all staff members are subject to regular training and take responsibility for the quality of work they do in accordance with GHP and GMP principles that are well known to them.

Mitmar
We are a manufacturing and trade company, which has been present on Polish and foreign markets since 1995.

We offer a wide range of frozen and chilled pork, beef and poultry meat.

We deal in cutting and boning of pork heads. We also make MSM and poultry meat. Being a manufacturer we can ensure the processing adjusted to the demand on the market and addressed to the needs of our customers. We have a cold store, blast freezing chambers and packaging area, in which we package our range of products under our own brand name and logo.

Our trade partners are in all European Union countries, East European and Baltic countries, in the Balkans and in more distant markets such as in Asia and West Africa where we export Polish pork and poultry mostly.

Our advantageous localization in central Poland, where A1 and A2 motorways cross, as well as efficient logistics ensure fast distribution of goods both to our customers in the European Union market and domestic market.